PR Degassing System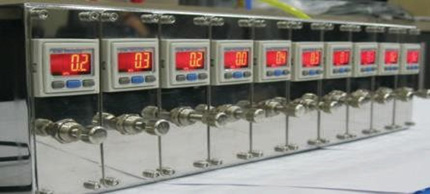 The PR Degassing System can remove Micro Bubbles from the PR Line, and prevent Pump Dispense Condition changes due to bubbles. Particle decreases can increase the yield and prevent coating faults.
Micro Bubble removal and Pump Dispense Condition changes can be prevented.
A yield increase from particle decreases can be expected.
Coating faults can be prevented.
The equipment can be installed before Tracking.
It can be installed on equipment using other liquid chemicals.
Diagram

MODULE PRINCIPLE AND PRECAUTIONS
The Degas Module removes bubbles using the size of the molecules.
The Vacuum must be turn On after the Module is filled with PR.
This may be the reason for Module Failure.
The appropriate operating pressure is -70 ~ -80Kpa.
MODULE SPECIFICATION
| | |
| --- | --- |
| Size | 29mm x 58mm x 111mm |
| Weight | Approximately 100g |
| Material | Teflon AF |
| Housing Material | PEEK, PPS |
| Components Material | PFA |
| Operating Temperature | 5℃ ~ 40℃ |
| Feed Pressure | 0.2Map (205℃) |
| Vacuum Pressure | 0.2Kpa (abs) (15Torr) |